EMP Title A qui es dirigeix aquest programa
What is Social Entrepreneurship programme?
What is Social Entrepreneurship programme?
Barcelona Activa's Social Entrepreneurship programme is a comprehensive and specialised programme that aims to accompany you in the development and launch of your social enterprise. If you are an entrepreneur with a project with a positive social, environmental or cultural impact, a recently created social company (less than 1 year old), or a social organisation that wants to launch a first line of business, this programme is of interest to you!
More than 100 transformative projects have participated. The Barcelona Activa Social Entrepreneurship programme offers you the necessary tools to define and launch a high-impact and economically viable project, accompanying you and putting you in contact with the social entrepreneurship ecosystem.
Newly created social enterprises
1. Training: almost 100 hours of group training where all the contents of the Social Enterprise Plan are covered, as well as entrepreneurial skills and abilities.
2. Support in all the stages of the project: more than 10 hours of individual tutorials with each project (including strategic support and support in entrepreneurial skills and abilities) and group support sessions to facilitate co-work spaces, support emotional management of the process of undertaking and generating synergies.
3. Networking with the social entrepreneurship ecosystem: holding meetings to learn about successful entrepreneurial experiences, making visits to leading social companies and participating in exchange spaces with key agents in the sector.
4. Support for the visibility of the entrepreneurial project.
EMP Img Inscripció al programa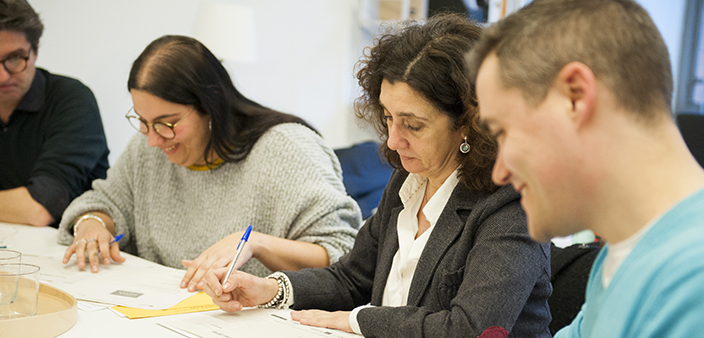 Programme Description
1. Training sessions: to provide the necessary entrepreneurial skills and abilities to consolidate the economic and technical conditions of the projects and to maximize the positive social impact.
2. Personalized interviews and follow-up: individual sessions with each project to review it, solve the doubts of the promoting team and provide improvements related to the subject matter taught at each stage of the process and group sessions with all the projects to generate synergies and collectively improve the emotional management of the entrepreneurial process.
3. Relational sessions: knowledge of successful entrepreneurial experiences and visits to social enterprises in the territory.
4. Networking lunches with reference people.
5. Access to funding.
6. Support to the diffusion and visibility of the entrepreneurial project.
Awards
Prize for the best entrepreneurial initiative 10,000€ winning project.
If you are interested in doing the program
Programa Emprenedoria Social
, send the application form by clicking on the following
link
.
Emp logo list empreses empre social
Empreses que han participat en aquest programa