4YFN | B+M Hero Banner (The place to successfully Startup At #4YFN2022)
Sense títol B+M Paragraph
Come to 4YFN - MWC 2023
From 27th February to 2nd March 2023

Barcelona Activa participates yet another year in 4YFN - MWC, the benchmark world trade fair that promotes entrepreneurship, where it presents its services and organises multiple talks and networking activities. You will be able to meet 32 of our start-ups and discover a wide range of solutions from entrepreneurs.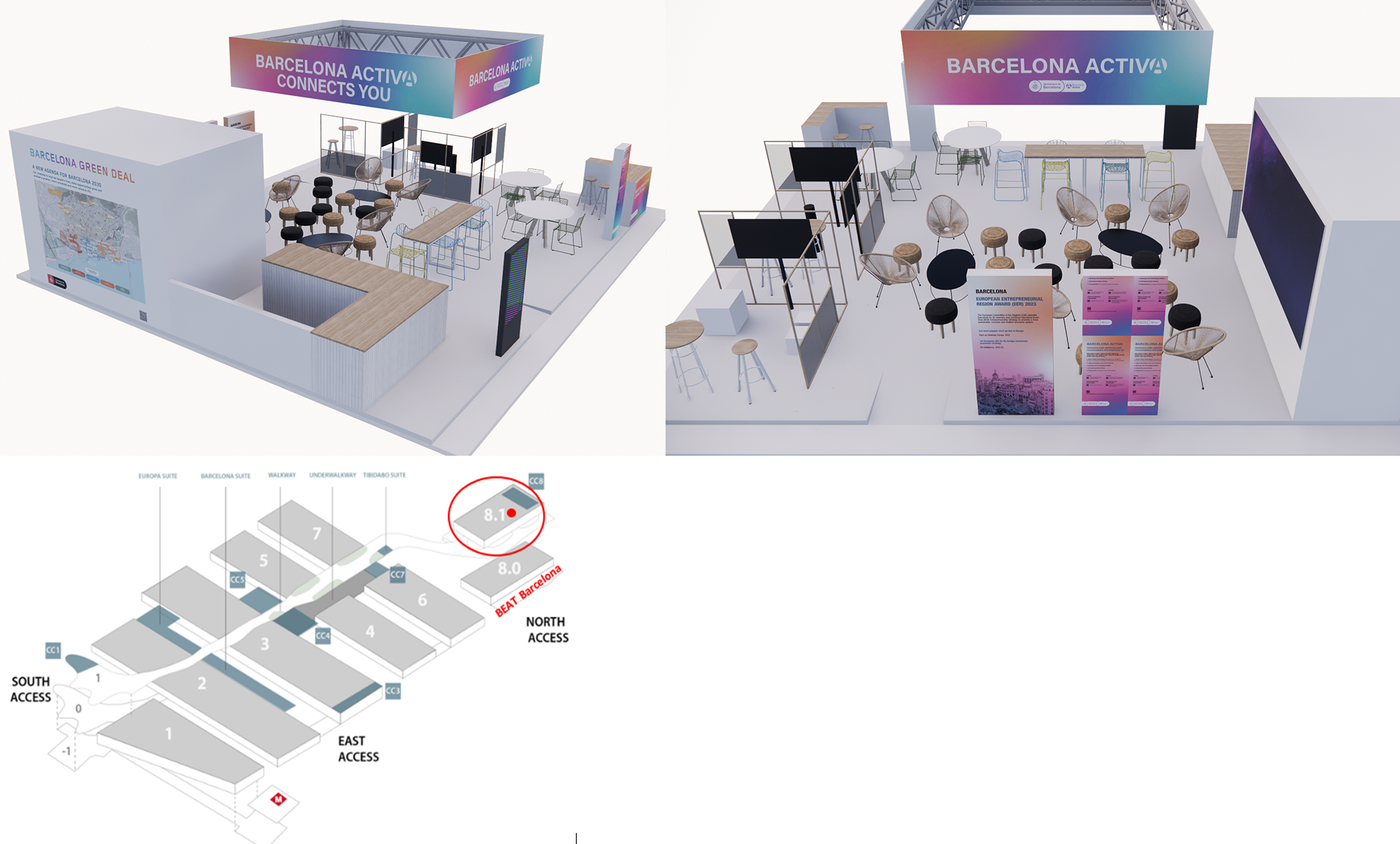 We are located in Hall 8.1 of the Fira Gran Via! (North Access)
On the stand 8.1C20 you can find:
Personalised advice

: Barcelona Activa expert staff will attend to you personally and offer you information about the services and programmes we offer.

Agora Zone

: open and multipurpose space where you can network and attend events, presentations and meetings to promote talent and entrepreneurship. See the schedule of activities below.

Food Corner

: gastronomic corner where you will learn about the services related to food and you can taste for free the products of companies in the Barcelona Activa ecosystem linked to the agri-food sector.

Experiential showroom

where you can get to know and test live the solutions presented by three of our start-ups:

Athos

,

MuseSceneLab

(Monday 27th and Tuesday 28th February) and

VRi

(Wednesday 1st and Thursday 2nd March).
4YFN | B+M Title (Start-ups assistents)
4YFN | EMP Logo List (Start-ups assistents)
4YFN | B+M Title (Programa d'activitats)
Common Code between digital companies and the talent of IT Academy
Activity that aims to find points in common between companies in the digital sector and IT Academy students. A gamified teambuilding process will be carried out to access the final surprise among all the participants. This conference will serve to get feedback on the different visions they have of the sector and of each other so as to improve the labour integration of junior profiles.
Discover how users perceive and interact with your product/service through UX Lab
Conference on the user experience (UX) and how it allows companies' products and/or services to evolve.
Pitching session of the industrial, audiovisual and creative sectors
How to care for and expand the network of professional contacts: networking of LIDERA mentors
Networking event to strengthen relationships and connections between the mentors of the Women Mentoring Programme. Aimed at the women mentors of the 6th and 7th edition of the Women Mentoring Program and the 4th edition of the PD3 – Fes el canvi (Management Development Program for Women).
Pitching session of scientific vocations
Thinking about setting up in Barcelona? Come to hear about the new Spanish Startup Act and the Barcelona International Welcome Desk
Pitch Event by Barcelona Activa: Part I
E+Mobility accelerator programme: programme presentation: EIT Urban Mobility
Euro-Latin American conference on Tech Champions: from scale-ups to TechnoLatinas
Auditorium stand Mobile World Capital
Pitch Event by Barcelona Activa: Part II
CONNECTIO, join Open Innovation
Presentation of Connectio, the Open Innovation Business Platform of Barcelona Activa. A round table will also be organized to create dialogue around the experiences of start-ups beyond the platform.
Tech Tourism Talks @4YFN
Talk organised by the Tech Tourism Cluster and Barcelona Activa with the aim of discussing among three entrepreneurs about investment opportunities and in the traveltech sector.
BIZ-Saló | EMP Banner Button (No et perdis el Barcelona BEAT)